Please find the English version below.
Seit 2013 machen wir, Jonas Milke (Gitarre) und Nina Adam (Gesang), zusammen Musik in verschiedenen Sprachen.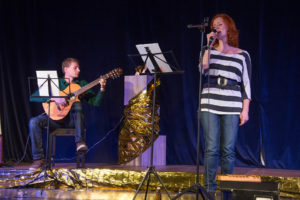 Wir erweitern unser Repertoire ständig und haben unter anderem Lieder auf Deutsch, Englisch, Französisch, Spanisch, Tschechisch, Schwedisch, Japanisch, Jiddisch und Arabisch im Programm. Stilistisch bewegen wir uns dabei grob im Bereich Folk-Pop.
Wir spielen regelmäßig bei verschiedenen offenen Bühnen im Rhein-Main-Gebiet und geben gelegentlich auch kleine eigene Konzerte. Wenn du wissen willst, wann wir wo spielen, oder uns für eine Veranstaltung buchen willst, schreib mir gerne eine E-Mail.
Wir spielen übrigens auch gemeinsam in der Theatergruppe Die Dramateure.
English version
Since 2013, Jonas Milke (guitar) and I (vocals) have been making music in many different languages. We keep extending our repertoire, which now features, among others, songs in English, German, French, Spanish, Czech, Swedish, Japanese, Yiddish and Arabic. The style of our music can roughly be described as folk-pop.
We regularly play at open stages in the Rhein-Main area and occasionally do our own concerts as well. If you like to learn about our upcoming shows, or book us for your event, just send me an e-mail.
By the way, we also play in the theatre group Die Dramateure.